If you're searching for simple and tasty recipes, you've come to the right place.
S'more Bonbons.
One of the all-time best S'more Bonbons ever! . Genuinely the best S'more Bonbons recipe! It's super-easy to make,its SO amazingly cozy and delicious, instructions included below.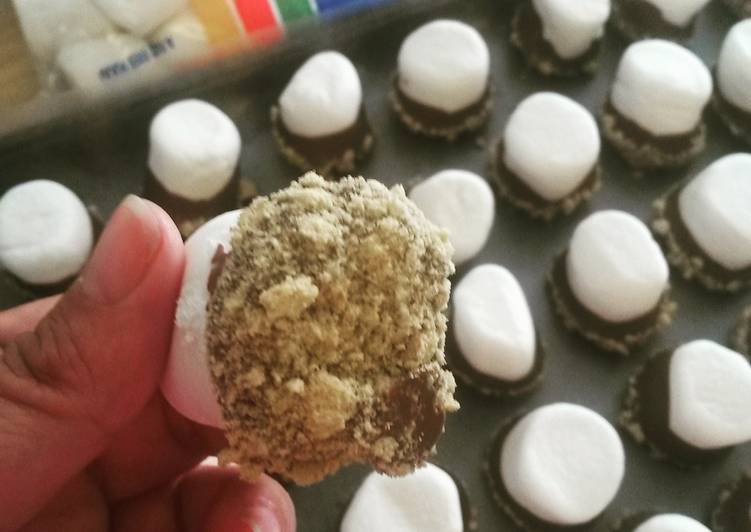 You can cook this recipe using 4 ingredients with 6 steps. fine don't waste time, just go ahead Here is how you cook it. .
What You Need to Make S'more Bonbons
You need 74 of large marshmallows (about 2, 10oz bags).
You need 1 cup of crushed graham cracker (about one sleeve from a box).
Prepare 6 of pips of chocolate flavored almond bark. (1/2 of a package).
You need of water, for the double boiler.
How to Make S'more Bonbons
Ready to cook? Here's what you need to do :
Crush up a full sleeve of graham crackers until they are a rough powder consistency. A food processor works great for this or a zipper bag & a rolling pin. Then transfer the crumbs to a shallow bowl..
Set up a small double boiler on medium heat. A metal bowl & a saucepan filled with water will work. Place 3 – 4 pips of chocolate almond bark & melt while stirring..
While the almond bark is melting, set up a bonbon building station. Line a cookie sheet with wax paper. Set out the bowl of graham cracker crumbs, open the bags of marshmallows & make a place to put the hot bowl of melted almond bark..
When the almond bark is melted & smooth remove from the saucepan & place it in your bonbon work station..
Begin building the bonbons. Grasp a marshmallow by one end, dip it into the chocolate almond bark (making sure to leave some area uncovered at the top), & then into the graham cracker crumbs. Place the bonbon graham crumbs side down on the wax paper. Repeat with all the marshmallows. When you run low on chocolate almond bark, return the bowl to the warm saucepan of water. Add the remaining almond bark, melt, then continue the building process..
Transfer the cookie sheets of bonbons to the freezer for 15 mins to set them. Remove & store in an air tight container. Keep frozen or store at room temp. They can last up to several weeks. Will hold better at cooler temps though. If making in the Autumn or Winter you can substitute milk chocolate for the almond bark..
As always, thank you for reading through this blog, which allows me to share more distinctive content and recipes for you.
Sharing is caring!
Happy cooking … Cheers, friends!